Youth's Cleanroom Products
Elevate your cleanroom to the next level with our exceptional cleanroom air filters. As the definition of clean air solutions, we provide a wide range of filters to various industries, including pharmaceuticals, semiconductors, and biotechnology, that demand pure and contamination-free air. Our filters are engineered to deliver unmatched performance and filtration efficiency, ensuring a healthier and safer environment. Join the ranks of satisfied customers and discover the difference clean air can make with our cleanroom air filters. Browse our collection now!
Cleanroom equipment refers to a variety of specialized tools and systems designed to create and maintain an ultra-clean environment within a cleanroom. These environments are used in a wide range of industries, from semiconductor manufacturing to pharmaceuticals, where even small particles or contaminants can cause significant damage to sensitive products or processes.
Youth provides cleanroom purification equipment including HEPA (high-efficiency particulate air) filters, laminar flow systems, air showers, dispensing booths, pass boxes, FFU (fan filter units), mist showers, etc, those equipment plays a critical role in maintaining cleanliness and sterility of a cleanroom environment, which is essential for many industries that rely on high-quality, contamination-free products and processes.
Furniture used in cleanrooms is specialized equipment and furnishings specifically designed to meet the cleanliness standards required for different cleanroom classes. Common types of furniture used in cleanrooms include workbenches, tables, chairs, storage cabinets, gowning benches, and shelves. These furnishings are typically made from materials that are easy to clean and resistant to corrosion, such as stainless steel, laminate, or polypropylene. They also often have smooth, rounded edges and minimal ledges or crevices to prevent the accumulation of dust and other particles.
We offer a wide range of high-quality furnishings that are ideal for use in cleanrooms. Our standard products are welded by robots, while our customized products are made by skilled welders with exquisite craftsmanship. Whether you need wardrobes, shoe cabinets, buckets, sinks, carts, or any other type of furniture, we can use double-layer full welding technology to ensure that the furniture has no hygienic dead ends. The arc does not accumulate dust, which makes our furnishings perfectly suited for meeting GMP standards.
A cleanroom system refers to a controlled environment that is designed to minimize the introduction, generation, and retention of pollutants such as dust, microorganisms, and chemicals, that can have an adverse impact on products and processes in various industries, including semiconductor, pharmaceutical, and biotechnology. Cleanroom systems typically consist of various components such as wall panels, ceilings, flooring, and windows and doors, which are designed to meet specific cleanliness and contamination control requirements. These systems play a crucial role in ensuring that the controlled environment remains free from contaminants, which can compromise product quality and production yields.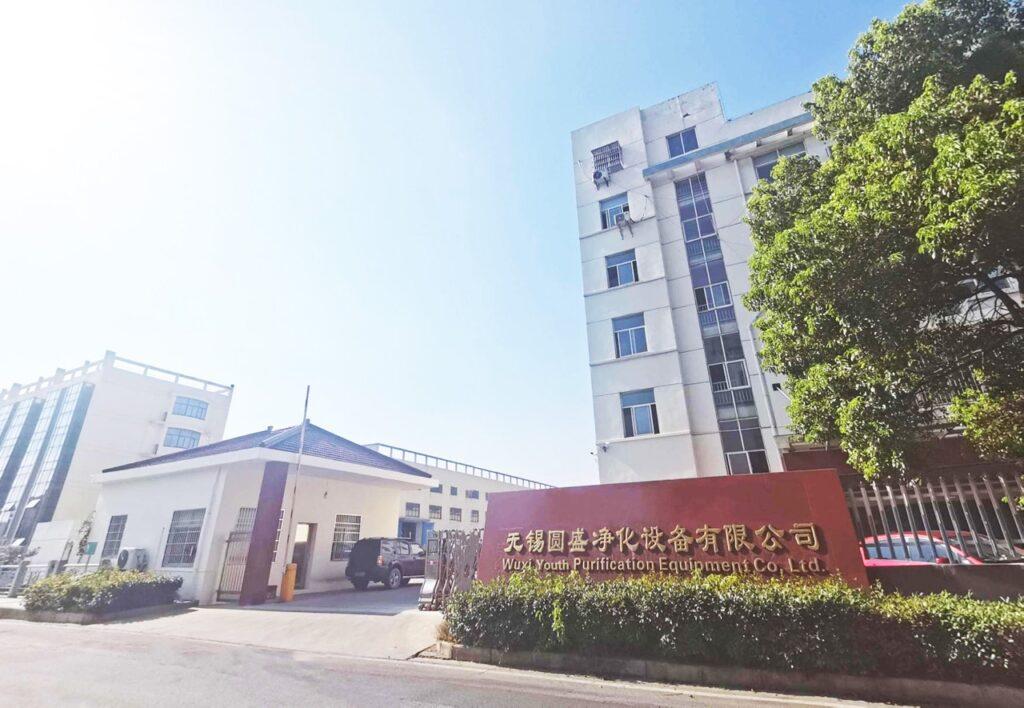 As an ISO 9001:2008 certified company, Youthtech offers a broad range of high-quality filters, purification equipment, cleanroom furniture and turnkey solution to meet the needs of applications from Class 100,000 to Class 10. At Youthtech, you will find the ultimate products with excellent cost-effective, not the cheapest but the most appropriate investment cost to meet your reliable operation, long lasting and high-quality requirements.
We are committed to developing and launching new innovative readiness services to meet your needs run true to form.
Thanks for choosing us as your partner!
Do you provide ODM/OEM service?
At YOUTH Company, we specialize in creating custom products that meet the exact specifications of our clients. Our experienced development team will work with you throughout the entire design and manufacturing process, from choosing materials to finalizing the design. We have a track record of success, as we currently provide OEM services for several well-known brands. In addition, we have access to advanced assembly and testing facilities that allow us to offer flexible manufacturing options and full customization services. Trust us to deliver high-quality, customized products that meet your unique needs.
How is your after-sales service?
At YOUTH, our services are organized into three categories: pre-sale, sale, and after-sale. The after-sale service begins as soon as the TURN-KEY project is completed. Customers can contact us through various methods, such as email, phone, or instant messaging, to report any issues or needs in the after-sale period. We aim to respond to customer inquiries within 12 hours and provide a feasible solution, including any estimated costs, within 8 hours of receiving and confirming the customer's request. For larger projects, our on-site technical service engineers will be available at the project site within 24 hours.
Are there any implied conditions for business cooperation with YOUTH?
There are no implied conditions of cooperation with YOUTH. We look forward to establishing long-term, mutually beneficial cooperation with our customers.
Are you a factory or trader? where is your factory located?
We are a company integrating industry and trade. YOUTH has complete design, manufacturing, inspection, and other full-process production lines.
Do you offer on-site technical support services?
Yes, we provide technical support services on the project site. Including transportation, construction, installation, commissioning, etc.
What payment methods do you accept?
Payment methods accepted by YOUTH: FOB, T/T, L/C, CIF, EXW, etc. You can also contact our sales engineers to find a more suitable payment plan.
How long will it take for me to reply when I send an inquiry?
We value every customer's trust. We will reply to you within 24 hours.
What quality certification protocols do you produce products under?
In YOUTH company, we adhere to the guidelines and protocols set forth by GMP like CE, UKCA, FM, UL. In addition, we are certified to the ISO 9001:2018 standard and are committed to meeting the specific requirements of our customers. We work closely with our customers to ensure that all necessary customs and import/export certifications are obtained.
Can you realize the custom design and production according to customers' needs?
At YOUTH, we offer customizable cleanroom products and solutions for all aspects of cleanroom projects, including filters, equipment, furniture, complete systems, and all necessary consumables for cleanroom operation. We are able to customize any cleanroom-related product to meet your specific needs.
Which countries have you sold your equipment to?
For many years, YOUTH has earned the trust and admiration of our customers through our high-quality products, attentive service, and fair pricing. We place a high value on our customers and recognize that they are key to our success. Our products have also been successfully exported to over 20 countries in Europe, America, and the Middle East.
What is your warranty condition?
Different types of our cleanroom products have different warranty conditions. Please confirm the specific equipment warranty with our sales staff.
Do you offer free samples service?
Yes, we provide free sample service before the sale for all customers. Please communicate with our sales engineers about the products you are interested in, and we will provide you with a full set of logistics and customization services.
Great ideas are born from a discussion.